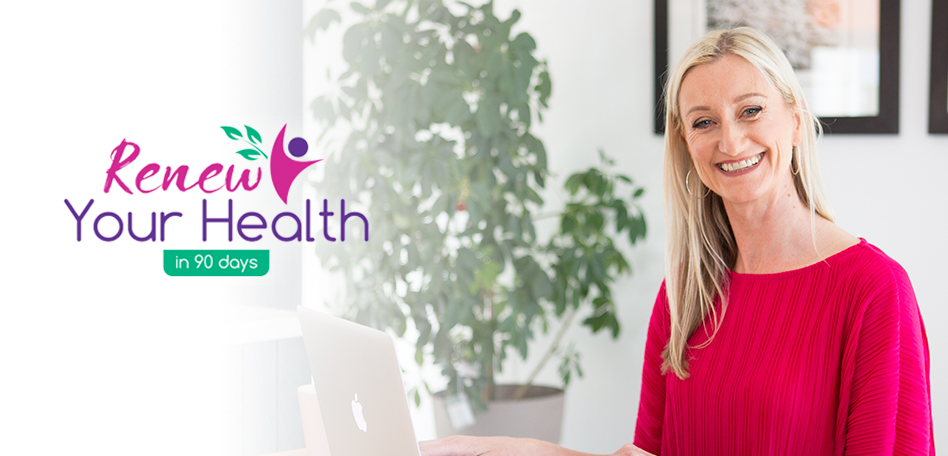 Would you like to ReNew Your Health in 90 Days?
Are you someone who is frustrated and struggling with health issues?
Perhaps you've been referred to a doctor but your condition is still unresolved or even left undiagnosed?
Maybe you've got a diagnosis but still feel unwell?
Perhaps you've lost faith in medicine altogether and don't know where to turn?
This program is perfect for you:
If you are struggling with fatigue and want more energy
If you are in pain and want to move freely to exercise more and sleep better
If you are bloated and uncomfortable and want a perfect poo!
If you have brain fog and want to feel mentally sharp again!
If you are struggling with hormonal problems and want to feel sane again!
If you want smooth, supple, comfortable skin
If you want a more robust immune system
If you struggle to get started with making changes that you want to or know you have to make
If you are great at getting started but find it hard to stick to the recommendations
If you want to work with body, mind and energetic flow
If you want a complete holistic approach to wellness
I will teach you:
How to use Food as Medicine
How to make simple but powerful lifestyle changes
Powerful interventions to help you reduce stress and improve your emotional outlook
Key strategies to sustained energy and mood throughout the day
How to transform your thinking of "it's too much effort to eat a healthy balanced diet"
How to make the changes to your diet simple and easy so you hardly notice that you are making them
Tangible steps that you can implement right away
What you will get from me:
6 x 1 hour fortnightly appointments so we can make small incremental changes that "stick"
A multi-disciplinary approach – Nutritional Therapy education with a combination of other therapies, so your whole body and emotions are supported
Bespoke nutrition treatment plans that accounts for the WHOLE of you, this is a completely holistic approach
Done for you meal plans and recipes  taking into account your needs, but also your food likes and dislikes, how much time you have etc
Educations about your condition, what the potential causes/triggers are, so you have a complete understanding of yourself and feel empowered with how to move forward
Supplement advice – if necessary – it's a minefield out there!!!
Lifestyle recommendations – to support improved energy levels and sleep etc
Years of clinical experience – I spent years studying this stuff and seen 100's of clients so I know what works and what doesn't and how to encourage you to make the changes you need to
Enthusiasm, passion, encouragement – I love working with my clients and helping them to achieve their health goals
A partnership in your health journey – it's important that you have support in between appointments if necessary to be able to stick to the plan or make adjustments as we go
Confidentiality
Advice on Functional testing if necessary – this is a deeper look inside your body so we know exactly where your imbalances are.
Willingness to work with your Dr/Consultant or other health practitioner so we can work together to support your health
Non-judgemental space for your healing journey
Honest communication – I will be straight with you, and may even "kick you up the bum" at times
Commitment to your healing journey – I want you to get results as much as you do
A private Facebook group for support between appointments and additional information to help you on your journey to ReNewed Health
NES Scan and treatment – this speeds up the whole process
All the remedies you need – NES Infoceuticals, Australian Bush Flower Essence or Aromatherapy blend – Unfortunately I can't factor in Nutritional supplements and Functional testing to the investment in this program. They vary in price such a lot and I don't hold any in stock. This is a bespoke program and everyone needs something different. These are additional to the program investment. 
HeartMath techniques to help reset your nervous system and bring calm to your life
Numerology report – so you understand more about yourself
Results – as long as you do the work!
Email support in between appointments if necessary – during office hours
What I need from you:
Open minded & positive attitude
Full participation and willingness to follow my recommendations
Open communication about any struggles/challenges
Be mindful of your "gremlins" that stop you moving forward or self-sabotage behaviours that keep you stuck
Trust in the work we do together
Patience – this is a journey – there is no quick fix, it takes time for your body to adjust and regenerate
What to do next
Contact me to book a complimentary discovery call to see if this program is a fit.
For 80% of people who come through this program this is all you need. If you are in the 20% that have a complex case or have been unwell for quite some time, you will need further appointments. It can take time for your body to adjust.
Space is limited